"I love the durability of the TASKA. I no longer have to wait for the hand to come back from getting fixed - I love it - I do."
When we spoke with Melanie about her TASKA Hand experiences, she'd been learning to use a rowing machine.
"I used to row, and I have a new trainer, so we've been using straps to row on a machine as part of my training."
At her core, Melanie is someone who finds a way. She is on a journey of adaptation and connection with her authentic self.
"I was in a production of Chicago, and I didn't wear my arm for that. I played the badass amputee... I realised this is me; I'm the same person… and (long story short) now I work in disability advocacy for film and television."
Involved in theatre since age eight, Melanie started back into the audition circuit with a cosmetic hand.
"I realised it was worthless. It may have looked like a real hand, but acting isn't just about looking the part; it's about finding your truth… I needed two functioning hands."
Melanie opted for a standard myoelectric hand but found it was only helpful for auditions and not day-to-day life.
"I learned to use the myoelectric in 2016. Over the next three years, I used that, and I saw new tech kept coming. I saw multi-articulating devices, and I tried out a couple. Then, I came across a local business - they were distributing the TASKA - the guy there, Kevin, was like, 'There's no hand like this! You can put it in water!'"
Being a very active person, Melanie had been looking for a robust hand, one that could take a beating.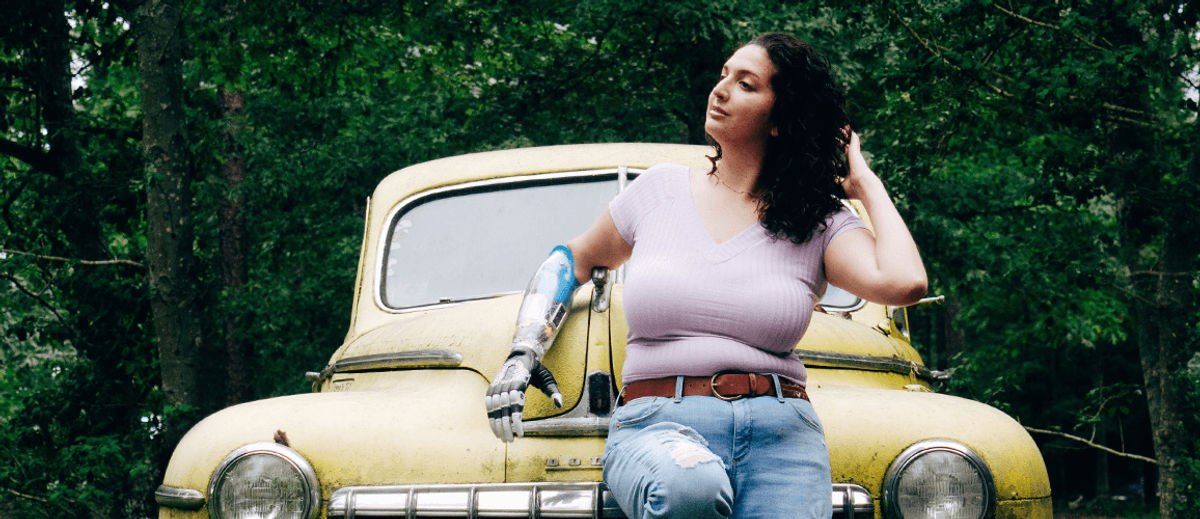 "I'm finding a new way to express my authenticity...my TASKA gives me self-confidence."
"I love the durability of the TASKA. I no longer have to wait for the hand to come back from getting fixed - I love it - I do… it's a smarter device. If I'm holding something, I almost feel the weight. You can feel the resistance - it blows my mind - it's as if it has a brain."
Diagnosed with Lupus SLE in 2013, an autoimmune condition that affects skin, heart, kidney and lungs, Melanie was admitted to hospital after two years of non-stop doctor's appointments.
"I had two blood clots in my right wrist, cutting off circulation. I was in the hospital for 30 days, during which time I had ten ops and was in three ICUs."
The complications of this connective tissue disorder had arisen due to Melanie being right hand dominant.
"Now, I'm aware of overusing my left hand. Long-distance driving, going to auditions, for example. So my TASKA is my literal right-hand man and is taking the weight."
When not getting ready for the camera or waiting to step into the spotlight, Melanie volunteers for the Amputee Coalition of America, teaching them accessible yoga.
"I'm finding a new way to express my authenticity. For yoga and acting, I can't be in these fields without being myself - being unapologetically me - my TASKA gives me self-confidence, it's a conversation starter… and the best thing is to be back in my community."