"It looks, feels and operates like a regular hand. Even in the wet."
Jason wanted the TASKA. Only one (tiny) problem. The TASKA Hand wasn't available in Canada at that time.
"I first saw the TASKA on social media, and I said to my prosthetist, 'I want that hand.' I'm not the sort of guy to give up, so long story short, after a bit of calling around, I was told, 'As soon as we can bring it into Canada, you'll be the first guy to try it.'"
Jason has had (and still has) a lot of prostheses.
"I've had four power arms made since 2017. Arm amputations are rare. It was challenging to connect with others in my situation. So I started a support group to share stories and advice."
As part of his journey, Jason had found that people wanted him to have the solutions they chose rather than having him decide for himself.
"I took control. It's a metaphor for my recovery."
"I told myself, that while help from others is great, I have to do this more for me and take control of my outcomes. Choosing the TASKA was a part of this journey for me. I decided that's what I wanted, and I made it happen."
Jason reached a point in his relationship with his prosthetist whereby he was given the mandate, 'If you find what you want, tell me, and we'll see if we can make it happen.'
For Jason, the fact that the TASKA is waterproof is a big selling point.
"It looks, feels and operates like a regular hand. Even in the wet."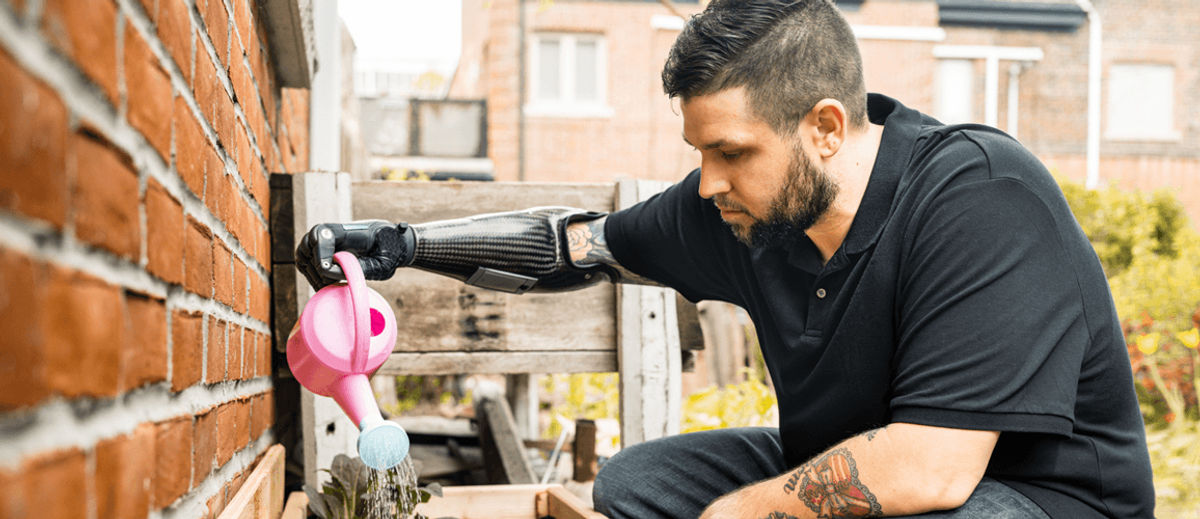 "I just love going out in the rain with my TASKA."
"I don't have to worry about getting caught in the rain or getting it wet when doing yard work. Washing my car with all the water and not a single issue."
Jason is the sort of guy that likes to get outside and roll his sleeves up. But, he needs a hand that can hold up under the pressure of the work he wants to do.
"Reeling in a big fish is hard work, but the grip held up. I fell on my hand while riding my bike. I only got a couple of scratches, but nothing broke"
And, what about other people's reactions?
"People see my hand, and they are always amazed. They want to know how it works. It has the form of the real hand, and yet, looks so high tech."
What's the thing you love about your TASKA the most?
"I just love going out in the rain with my TASKA."
"It's such a great feeling being in a restaurant, seeing it start to rain and not asking the waiter for a bag so that I can carry my arm home anymore!"